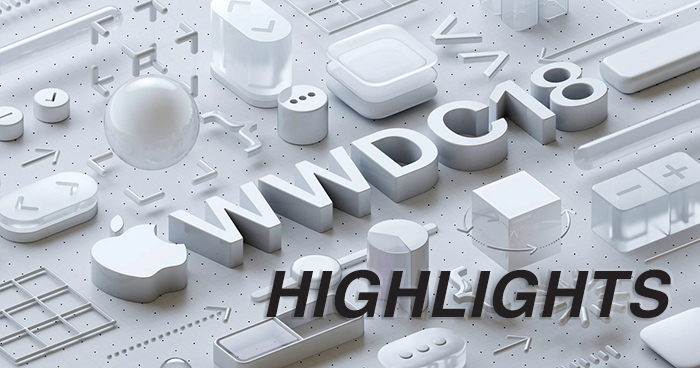 Announcing upgraded operating systems for iPhone and iPad, Mac, Apple Watch, and Apple TV.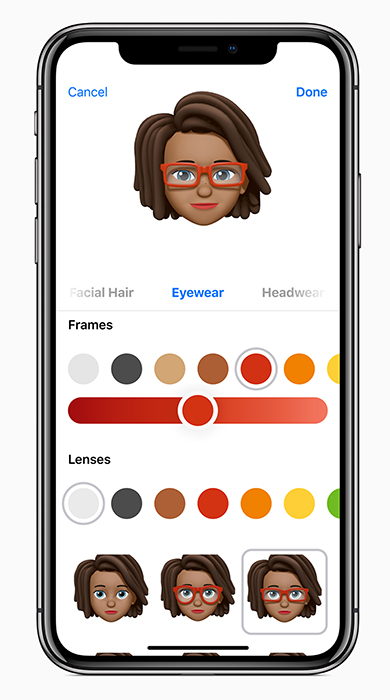 iOS 12: FaceTime up to 32 people. Share AR experiences with friends. Be more aware of how you and your kids use apps.
Apple today announced new tools built into iOS 12 to help customers understand and take control of the time they spend interacting with their iOS devices. These new features, available later this month as part of the iOS 12 public beta, include Activity Reports, App Limits and new Do Not Disturb and Notifications controls designed to help customers reduce interruptions and manage screen time for themselves and their families.
"In iOS 12, we're offering our users detailed information and tools to help them better understand and control the time they spend with apps and websites, how often they pick up their iPhone or iPad during the day and how they receive notifications," said Craig Federighi, Apple's senior vice president of Software Engineering. "We first introduced parental controls for iPhone in 2008, and our team has worked thoughtfully over the years to add features to help parents manage their children's content. With Screen Time, these new tools are empowering users who want help managing their device time, and balancing the many things that are important to them."
Do Not Disturb during Bedtime mode dims the display and hides all notifications on the lock screen until prompted in the morning.
iOS 12 brings enhancements to Do Not Disturb, making this powerful time management tool even better by helping people stay in the moment during times like studying as well as during a class, meeting or dinner. There is also a new Do Not Disturb during Bedtime mode to help people get a better night's sleep by dimming the display and hiding all notifications on the lock screen until prompted in the morning. Do Not Disturb has new options from Control Center where it can be set to automatically end based on a specified time or location.
To help reduce interruptions, iOS 12 gives customers more options for controlling how notifications are delivered. Instantly manage notifications to be turned off completely or delivered directly to Notification Center. Siri can also intelligently make suggestions for notifications settings, such as to quietly deliver or turn alerts off, based on which alerts are acted upon. iOS 12 also introduces Grouped Notifications, making it easier to view and manage multiple notifications at once.
Screen Time provides management tools for customers to control how they spend their time interacting with their iOS devices.
Empowering customers with insight into how they are spending time with apps and websites, Screen Time creates detailed daily and weekly Activity Reports that show the total time a person spends in each app they use, their usage across categories of apps, how many notifications they receive and how often they pick up their iPhone or iPad.
By understanding how they're interacting with their iOS devices, people can take control of how much time they spend in a particular app, website or category of apps. The App Limits feature allows people to set a specific amount of time to be in an app, and a notification will display when a time limit is about to expire.
View the amount of time spent in apps and set limits.
Screen Time is great for everyone to better understand and manage their device usage, but can be especially helpful for kids and families. Parents can access their child's Activity Report right from their own iOS devices to understand where their child spends their time and can manage and set App Limits for them.
During Downtime, notifications from apps won't be displayed, and a badge will appear on apps to indicate they are not allowed to be used.
Screen Time also gives parents the ability to schedule a block of time to limit when their child's iOS device can't be used, such as at bedtime. During Downtime, notifications from apps won't be displayed, and a badge will appear on apps to indicate they are not allowed to be used. Parents can choose specific apps like Phone or Books that will always be available, even during downtime or after a limit is spent.
Parents can set app limits for their child's daily iOS device usage. Kids have the ability to ask for more when their time limit runs out.
Screen Time is account-based and works across all of a child's iOS devices, so settings, reports and allowances are based on their total usage. Screen Time works with Family Sharing and is quick and easy to set up. Parents can configure Screen Time settings remotely for their child within the same Family Sharing group or locally on a child's device.
Availability
Screen Time and the new Notifications and Do Not Disturb features will be available with iOS 12 this fall.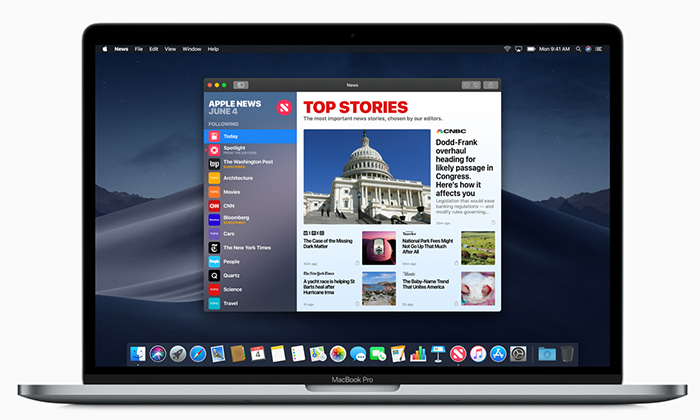 MacOS Mojave: Stay focused on your work with Dark Mode. Edit and share files without opening them. Explore a completely redesigned Mac App Store.
Apple today previewed macOS Mojave, the latest version of the world's most advanced desktop operating system, with new features inspired by pros but designed for everyone. In macOS Mojave, a new Dark Mode transforms the desktop with a dramatic new look that puts the focus on user content. The new Stacks feature organizes messy desktops by automatically stacking files into neat groups. Familiar iOS apps, including News, Stocks, Voice Memos and Home, are now available on the Mac for the first time. FaceTime now adds support for group calling, and the Mac App Store gets a full redesign featuring rich editorial content and the addition of apps from top developers, including Microsoft, Adobe and others.
"macOS Mojave is a major update that introduces powerful new features for a wide range of Mac users, from consumers to pros," said Craig Federighi, Apple's senior vice president of Software Engineering. "Dark Mode brings a dramatic new look to macOS that puts your content front and center, familiar iOS apps come to the Mac for the first time and the redesigned Mac App Store makes finding new apps easier and more enjoyable than ever."
macOS Mojave users can switch to Dark Mode to transform their desktop to a darkened color scheme, putting the focus on user content while controls recede into the background. Users can toggle between a light and dark desktop, and built-in Mac apps like Mail, Messages, Maps, Calendar and Photos all include Dark Mode designs. macOS Mojave also features a new Dynamic Desktop that automatically changes the desktop picture to match the time of day. An API is available so developers can implement Dark Mode in their apps.
Stacks for the desktop can organize even the most cluttered of desktops by automatically stacking files into neat groups based on file type. Users can customize their Stacks to sort based on other file attributes like date and tags. Finder also gets a significant update in macOS Mojave with an all-new Gallery View that lets users skim through files visually. The Preview Pane now shows all of a file's metadata, making it easier to manage media assets. Quick Actions allow users to do things like create and password-protect PDFs and run custom Automator Actions on files right from Finder. Quick Look provides a fast, full-size preview of a file, allowing users to rotate and crop images, mark up PDFs and trim video and audio clips without ever opening an app.
In macOS Mojave, handy apps including News, Stocks, Voice Memos and Home are now available on Mac for the first time. In the News app, articles, photos and videos look great on the Mac display and users can follow their favorite publications from one app. With Home, Mac users can control their HomeKit-enabled accessories to do things like turn lights off and on or adjust thermostat settings without ever having to step away from their computer. Voice Memos makes it easy to record personal notes, lectures, meetings, interviews and song ideas, and access them from iPhone, iPad or Mac. Stocks delivers curated market news alongside a personalized watchlist, complete with quotes and interactive charts.
Group FaceTime makes it easy to chat with multiple people at the same time. Participants can be added at any time, join later if the conversation is still active and choose to join using video or audio from an iPhone, iPad or Mac — or even participate using FaceTime audio from Apple Watch.
Since its launch in 2011, the Mac App Store has transformed the way users download and install software for the Mac, and today it remains the single largest catalog of Mac apps in the world. In macOS Mojave, the Mac App Store gets a complete redesign with a new look and rich editorial content that makes it easy to find the right Mac app. The new design highlights new and updated apps in the Discover tab, while tabs for Create, Work, Play and Develop help users find apps for a specific project or purpose. A number of apps from top developers are also coming soon to the Mac App Store, including Office from Microsoft, Lightroom CC from Adobe and more. As always, users can download apps from the Mac App Store with confidence that Apple has approved them for safety and security.
As with all Apple software updates, enhanced privacy and security remain a top priority in macOS Mojave. In Safari, enhanced Intelligent Tracking Prevention helps block social media "Like" or "Share" buttons and comment widgets from tracking users without permission. Safari now also presents simplified system information when users browse the web, preventing them from being tracked based on their system configuration. Safari now also automatically creates, autofills and stores strong passwords when users create new online accounts and flags reused passwords so users can change them. New data protections require apps to get user permission before using the Mac camera and microphone or accessing personal data like user Mail history and Messages database.
The News, Stocks, Voice Memos and Home apps were brought to Mac using iOS frameworks that have been adapted to macOS. Starting in late 2019, these additional frameworks will make it easier for developers to bring their iOS apps to macOS — providing new opportunities for developers and creating more apps for Mac users to enjoy.
Other New Features
Screenshots deliver new on-screen controls for easy access to every screenshot option and new video recording capabilities. A streamlined workflow enables easy screenshot sharing without cluttering the desktop.
Continuity Camera allows Mac users to take a picture or scan a document nearby with their iPhone or iPad and have it appear instantly on their Mac.
Markup tools are now integrated into Finder, Quick Look and Screenshots, making it fast and efficient to add comments to content and share with others.
MacOS Mojave will be available this fall as a free software update for Macs introduced in mid-2012 or later, plus 2010 and 2012 Mac Pro models with recommended Metal-capable graphics cards.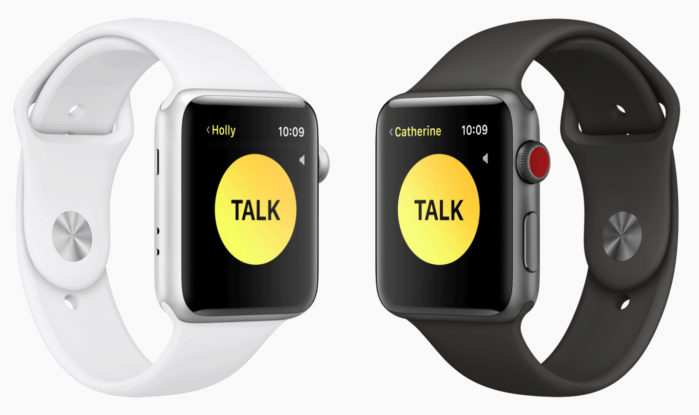 WatchOS 5: Challenge someone to an Activity competition. Track brand-new workouts, including yoga. Use Walkie-Talkie to connect with friends.
Apple today previewed watchOS 5, a significant update to the world's most popular watch, helping users stay healthy and connected. Apple Watch becomes an even stronger companion for fitness, communication and quick access to information with a host of new features including Activity Sharing competitions, auto-workout detection, advanced running features, Walkie-Talkie, Apple Podcasts and third-party apps on the Siri watch face.
"We're thrilled with the positive impact Apple Watch is having on people's lives," said Jeff Williams, Apple's chief operating officer. "Apple Watch is helping our customers stay connected, enhance their fitness and, in many cases, detect life-threatening conditions. With the launch of watchOS 5, we're excited to introduce new activity and communications features that will take the Watch to a whole new level."
Building on the excitement around Activity Sharing, watchOS 5 now enables users to invite another Apple Watch wearer to compete in a seven-day Activity competition, earning points for closing Activity Rings, while receiving coaching notifications to help stay engaged and win the week.
For the most popular workouts on Apple Watch, auto-workout detection provides an alert to start the correct workout and gives retroactive credit. This feature also offers a reminder to end workout sessions after a period of inactivity if the user forgets.
Yoga and Hiking join 12 other dedicated workout types, accurately tracking active calories burned and exercise minutes earned.
watchOS 5 delivers high-performance features for running enthusiasts, including a new cadence (steps per minute) metric for indoor and outdoor runs and walks, as well as a new pace alarm for outdoor runs that alerts users when they are behind or ahead of their designated target pace. A brand new metric — rolling mile pace — is introduced as an additional option for runners to see their pace for the immediately preceding mile in addition to their average pace or current pace.
watchOS 5 introduces Walkie-Talkie, an entirely new way to communicate with voice and just a tap of the wrist. A fun and easy way to quickly get in touch with friends and family, this new watch-to-watch connection is fast, personal and can be activated between any compatible Apple Watch users around the world over Wi-Fi or cellular.1
Users can now listen to their favorite podcasts on the go with Apple Podcasts on Apple Watch and stream any podcast in the catalog by using Siri. Episodes will automatically sync to Apple Watch, and as they're listened to on other devices, the app will automatically refresh with the latest episode. A new feature for developers allows music, audiobooks and meditation sessions from apps such as Pandora, Audible and 10% Happier to be synced to Apple Watch for playback offline without the user's iPhone nearby.
Using machine learning, the updated Siri watch face on Apple Watch is an even better personal assistant. It now offers more predictive and proactive shortcuts throughout the day based on routines, locations and information such as heart rate after a workout, commute time with Maps at the appropriate time of day or sports scores for a favorite team. The Siri watch face will also show actionable content from favorite third-party apps such as Nike+ Run Club, Glow Baby and Mobike.
Notifications from third-party apps can now have interactive controls and be used without needing to open the app; for example, a Yelp reservation notification will have the option to modify the time or change the number of guests right from the notification.
With watchOS 5, Apple Watch replaces Student ID cards. With a raise of the wrist, students can gain access to places including the library, dorms and events, and pay for snacks, laundry and dinners around campus simply by adding their ID cards to Wallet on Apple Watch. The program launches with Duke, the University of Alabama and the University of Oklahoma this fall. Johns Hopkins University, Santa Clara University and Temple University will bring the capability by the end of the year.
Apple also today released a new watch face to celebrate Pride, which Apple Watch users can download from the Face Gallery in the Apple Watch app. The Pride Edition Woven Nylon band is updated with a new rainbow stripe with a donation being made to the following LGBTQ advocacy organizations: Gender Spectrum, GLSEN, ILGA, PFLAG, The National Center for Transgender Equality and The Trevor Project. Apple also introduced new summer band colors in Marine Green, Peach and Sky Blue.
Pricing and Availability 
watchOS 5 will be available this fall as a free update for Apple Watch Series 1 and later and requires iPhone 5s or later on iOS 12. watchOS 5 will not be available on the original Apple Watch. Features are subject to change. Some features may not be available in all regions.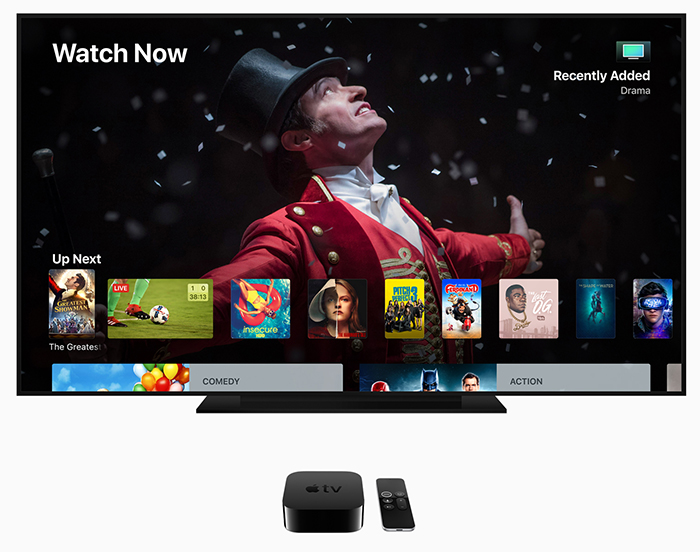 TvOS: Immerse yourself in Dolby Atmos 3D sound. Watch TV shows and movies in 4K HDR. Tune in to live news and sports.
Apple today previewed tvOS 12, the powerful operating system designed for enjoying entertainment on the big screen, which takes the cinematic experience of Apple TV 4K to the next level with support for Dolby Atmos audio, convenient new features to easily access the shows and movies you love and breathtaking aerials shot from space.
Apple TV 4K has been a hit since its debut last fall, offering customers the largest collection of 4K HDR movies, including free 4K HDR upgrades to previously purchased movies in customers' iTunes libraries. This fall, iTunes will be home to the largest collection of Dolby Atmos-supported movies anywhere, and these titles will also include Dolby Atmos audio for free. With tvOS 12, Apple TV 4K will be the only streaming player both Dolby Vision and Dolby Atmos certified, delivering the highest quality cinematic experience of stunning 4K HDR visuals and immersive sound that flows all around in three-dimensional space.
Video providers around the world are choosing Apple TV 4K to deliver their subscription services to customers. Apple today announced that Charter Communications, the second-largest cable operator in the US, will begin offering Apple TV 4K to their customers. Later this year, customers in nearly 50 million households will have access to live channels and tens of thousands of on-demand programs via an all-new Spectrum TV app on their Apple TV 4K, iPhone and iPad, seamlessly integrated with Siri and the Apple TV App. In addition, as part of this collaboration, Charter will be offering iPhone and iPad to customers as they grow their mobile presence. Charter joins AT&T's DirecTV Now in the US, CANAL+ in France and Salt in Switzerland, which have begun offering their customers Apple TV 4K with their services.
The Apple TV App on iPhone, iPad and Apple TV is the single destination to find and watch TV shows and movies from more than 100 participating video apps in 10 countries. Single sign-on for Apple TV and iOS has allowed users to sign in once to get access to all the video apps available through their cable subscription. With tvOS 12, Apple further simplifies the authentication process with zero sign-on. Apple TV simply detects the user's broadband network and automatically signs them in to all the supported apps they receive through their subscription — no typing required. Zero sign-on begins with Charter later this year and will expand to other providers over time.
Aerial screensavers are a favorite of Apple TV users and reach new heights with tvOS 12. Apple, in collaboration with the International Space Station National Lab and the Center for the Advancement of Science in Space, unveiled brand new aerials shot from space by NASA astronauts, so Apple TV customers can enjoy even more stunning scenes filmed in 4K HDR. Aerial screensavers will also be more interactive, allowing viewers to see the location information and swipe between dozens of beautiful aerials.
Additional tvOS 12 features for Apple TV 4K and Apple TV 4th generation make it even easier for customers to access the shows and movies they love:
With iOS 12, users can securely AutoFill passwords from iPhone and iPad to Apple TV to easily sign in to Apple TV apps.
The Apple TV Remote will be automatically added to Control Center on iPhone or iPad for Apple TV users, giving users quick access to Apple TV controls.
Home control systems like Control4, Crestron and Savant can be used to control Apple TV, including using Siri for voice search and control.
Availability
The tvOS developer preview is available for Apple Developer Program members at developer.apple.com starting today. The new tvOS will be available this fall as a free software update for Apple TV 4K and Apple TV 4th generation.
Apple revolutionized personal technology with the introduction of the Macintosh in 1984. Today, Apple leads the world in innovation with iPhone, iPad, Mac, Apple Watch and Apple TV. Apple's four software platforms — iOS, macOS, watchOS and tvOS — provide seamless experiences across all Apple devices and empower people with breakthrough services including the App Store, Apple Music, Apple Pay and iCloud. Apple's more than 100,000 employees are dedicated to making the best products on earth, and to leaving the world better than we found it.