Happy 40th Apple!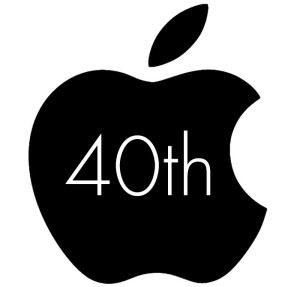 From Time Magazine special 80th anniversary edition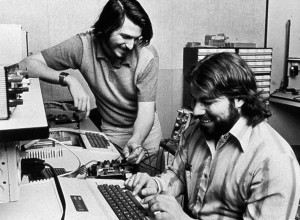 "They were two guys named Steve, so Steve Jobs was called Steve and Steve Wozniak went by Woz. At 25, Wozniak was the technical brains. Jobs, 21, was the dreamer with a knack for getting others to dream along with him. They had gone to the same high school, and in the hazy years after graduation — both were college dropouts — a shared interest in electronics brought them together. Jobs didn't yet have his own place, so when their formal partnership began, the decision was made in a bedroom at his parents' ranch house in Los Altos, Calif.
Most computers in 1976 were room-size machines with Defense Department size price tags, but Wozniak had been tinkering with a new design, and his computer was different. It wasn't much to look at — just a bunch of chips screwed to a piece of plywood — but it was small, cheap and easy to use, and Jobs had noticed the stir it caused when they took it to a local computer club. "He said, 'We'll make it for 20 bucks, sell it for 40 bucks!'" Wozniak remembers. "I kind of didn't think we'd do it." Jobs came up with the name, inspired by an orchard in Oregon where he had worked with some friends: Apple Computer. "When we started the little partnership, it was just like, Oh, this will be fun," Wozniak says. "We won't make any money, but it'll be fun."
They didn't go out and celebrate that day. Woz wouldn't even quit his day job designing chips for calculators at Hewlett-Packard until months later, after Jobs had sold his Volkswagen bus for seed money. Nobody, not even Jobs, saw what was coming next: that Apple would create the look and feel of every desktop in the world and start our love affair with the personal computer."
Apple revolutionized personal technology with the introduction of the Macintosh in 1984. Today, Apple leads the world in innovation with iPhone, iPad, Mac, Apple Watch and Apple TV. Apple's four software platforms — iOS, OS X, watchOS and tvOS — provide seamless experiences across all Apple devices and empower people with breakthrough services including the App Store, Apple Music, Apple Pay and iCloud. Apple's 100,000 employees are dedicated to making the best products on earth, and to leaving the world better than we found it.